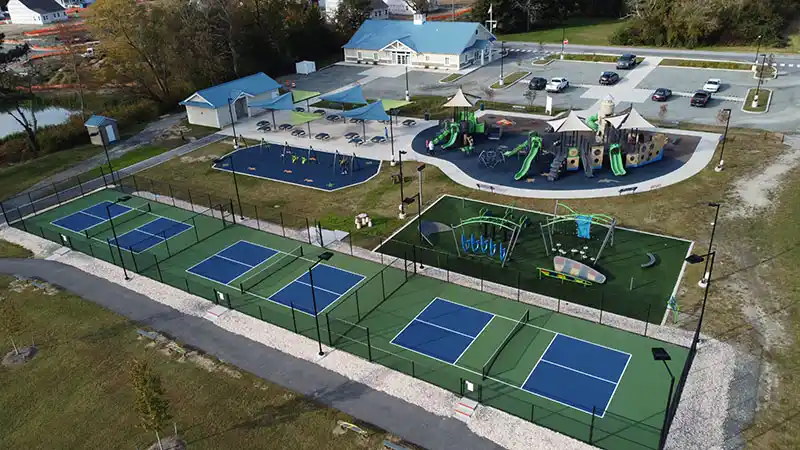 Location: 32517 Dukes Dr. Millville, DE 19967
Evans Park is a fun, exciting park with playgrounds, picnic areas, pickleball courts and an indoor community center! There is an expansive children's play area with slides, swings and a challenge obstacle course for all ages.
The park has a 1/6 mile walking/jogging path with outdoor fitness equipment stations to promote wellness and provide a well-rounded fitness routine.
The newly constructed pavilion sets the stage for outdoor concerts and community events. The indoor community center is a central hub for educational and informational programs, community events and is available for private party rentals. For rental information, see our facility use packet.
Please Note: The Town of Millville has priority use of all town facilities. Use of some or all facilities may be limited during Town or Town-Sponsored events.
Rental Information Contact
Liz Kain-Bolen
Park & Rec Administrator
Main Number: 302-616-1935
Cell Number: 302-858-3638
Email: park@mvtown.com
Park Rules
Pickleball Courts are open dawn to dusk and lights go off at 8:00 p.m.
Pledge Summary
Thank you to Sally Griffin, a Millville resident, for bringing to light the Mayors for Monarchs program and thank you to Grant Schaefer, Gunner Erickson, Jonathan Kohr and Mason Velez of Ocean View B.S. Pack 280 for participating in the Mayors for Monarchs ribbon cutting on June 30, 2022. Millville is a town located in Delaware located on the east coast with a population of roughly 1,300. The town is located 3 miles from the Atlantic Ocean and is home to the newly constructed Evans Park/Playground. Mayor Belinko has committed to saving the monarch butterfly and other pollinators with their signing of the Mayor's Monarch Pledge and looks forward to engaging residents in building more pollinator habitats throughout the communities.
Photo Galleries
Concert at Evans Park – Over Time Band June 28, 2023
Concert at Evans Park – Lower Case Blues May 17, 2023
Earth Day Celebration April 22, 2023

Earth Day Festival April 22, 2023
Easter Celebration April 2, 2023

Easter Celebration April 2, 2023
Yuletide Festival December 3, 2022

Yuletide Festival December 2022
Trail of Treats October 30, 2022

Millville Trail of Treats

The Great Pumpkin

Giant Dinosaur

Superman picks a pumpkin

Cruella chooses her pumpkins

Pretty Pirate with a pumpkin

Pumpkin for witches brew

scary tree

scarecrow

pumpkin toss

entrance to pumpkin patch

witches brewing

Happy pumpkin

Trail of Treats October 2022